Sutton Courtenay Weir Guide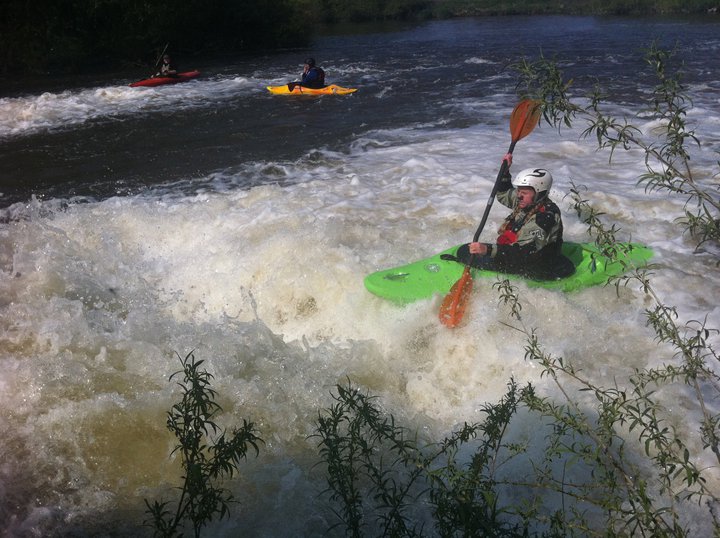 Announcement:

 This is really only worth a visit if you are local, its very small and hit or miss.
Sutton Courtenay Weir Guide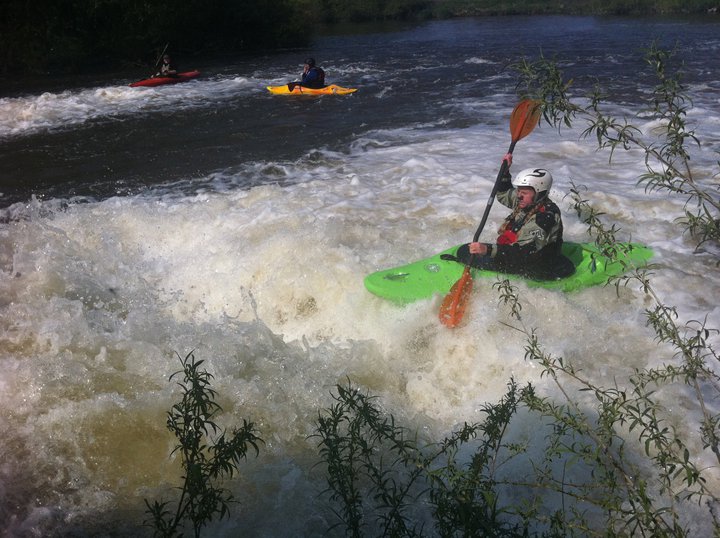 Announcement:

 This is really only worth a visit if you are local, its very small and hit or miss.
Description
At Sutton Courtenay there are 4 separate weirs, which we have numbered 1-4, paddling upstream from Culham. The weirs bypass Culham Lock. This venue is well frequented by local clubs as the most user-friendly weir (Weir 2) is open in most water levels.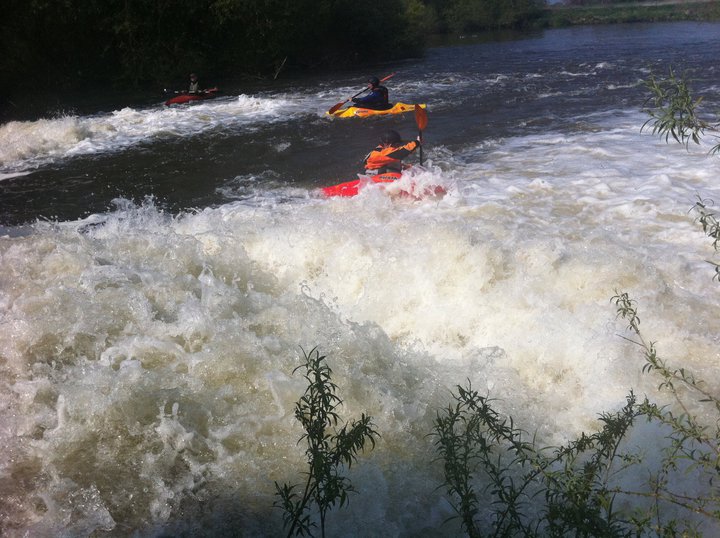 Feature Description
There is usually a stopper and wave train at weir 2 which varies from very easy to moderate (depending on water levels) and can be enjoyed by most levels of paddler. At high water levels a second weir (Weir 3) produces a big surf wave/stopper and wave train for the more adventurous.
Weir 1 – is in a pool by itself. It is a double radial, which is only open in very high water levels. There are a lot of boulders beneath this weir and a nasty stopper can form, so is best avoided.
Weir 2 – is situated in the main pool and is very user-friendly. This weir has two large radials in the middle that are only opened at high flows (when this weir is washed out), with two double smaller radials at each side. One or more of these small radials is usually open in all but the driest summer conditions and makes an excellent play spot for novice and intermediate paddlers, or anyone wanting to practise moving water and stopper skills. At times, slalom poles are hung across the river here (after gaining permission from the landowner) and local slalom paddlers practise on these waves.
Weir 3 – is a large, double radial and only opens during high winter levels when a large surf wave/hole forms (depending on the flow) followed by a good wave train with strong swirling eddies. Not recommended for novice paddlers, but good fun if you like big water.
Weir 4 – is the widest and consists of 3 very big radials. The flow from this weir forms a river-wide stopper between concrete side-walls and has an anti-scour lip (horrible!). A lot of water comes over this and it should be avoided at all costs. I have watched many trees recirculating in this weir!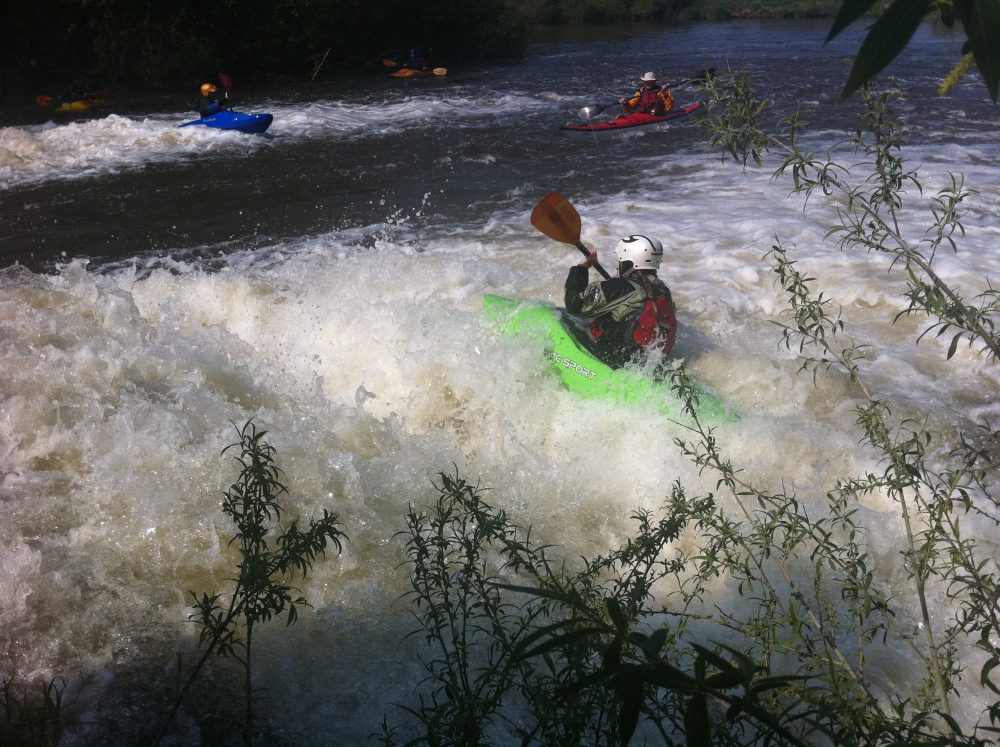 Hazards
Weir 4 is right next to the recently built hydro weir and is the biggest of the weirs, it should be avoided at all costs, you will not get out as there is an anti scour wall and a massive tow back.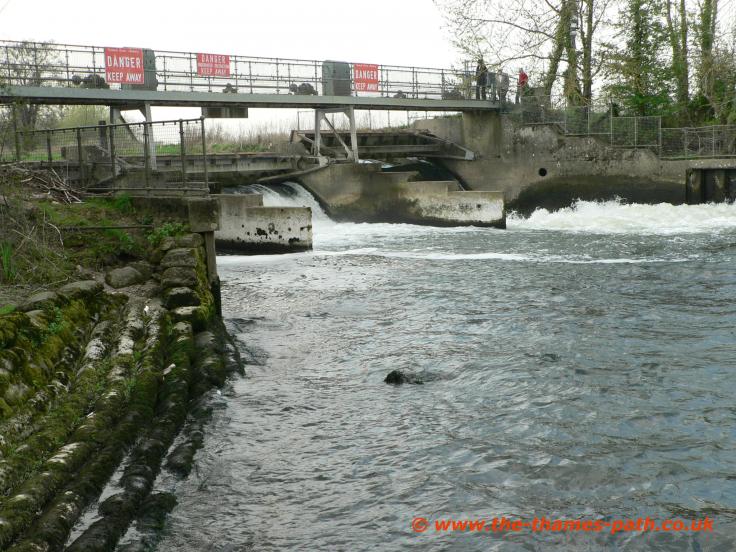 Directions
Take the A415 out of Abingdon and turn right at the traffic lights at the Wagon and Horses pub into Culham village. Turn right into the large car park next to Culham lock, immediately before the traffic lights and bridges over the Thames. Carry your boat across the road and over the stile next to the traffic lights. The easiest place to get in is at the far end of the landing stage. Paddle away from the lock to the end of the small island and turn right, back on yourself and paddle upstream under the bridge. Paddle upstream until you reach Sutton Courtenay pools. The first pool opens up on your left and has a double radial weir, which is only open in high flows. Continue a little further upstream until the river widens out into the main pool, which has 3 weirs. There is a footpath from Culham lock, upstream to Sutton Courtenay from which all the weirs can be viewed (5-10 min walk) but which does flood over when the river is very high.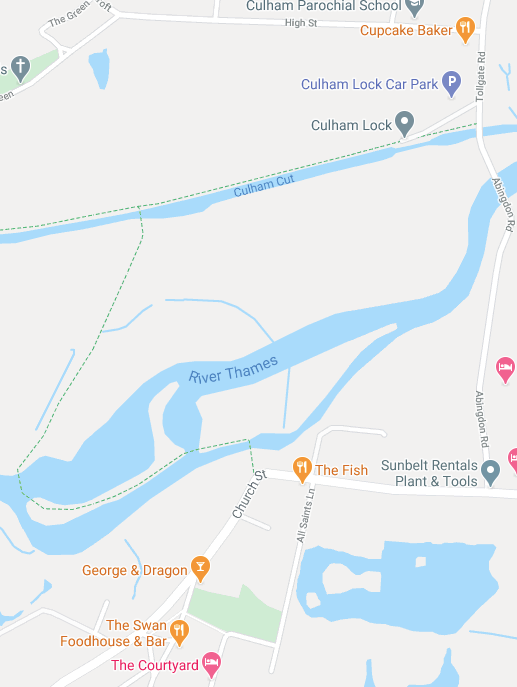 Although the weirs can be accessed by footpath from the corner after the Fish pub, there is very limited parking in Sutton Courtenay so please use the Culham lock car park for access.
Looking back at the weir over the years!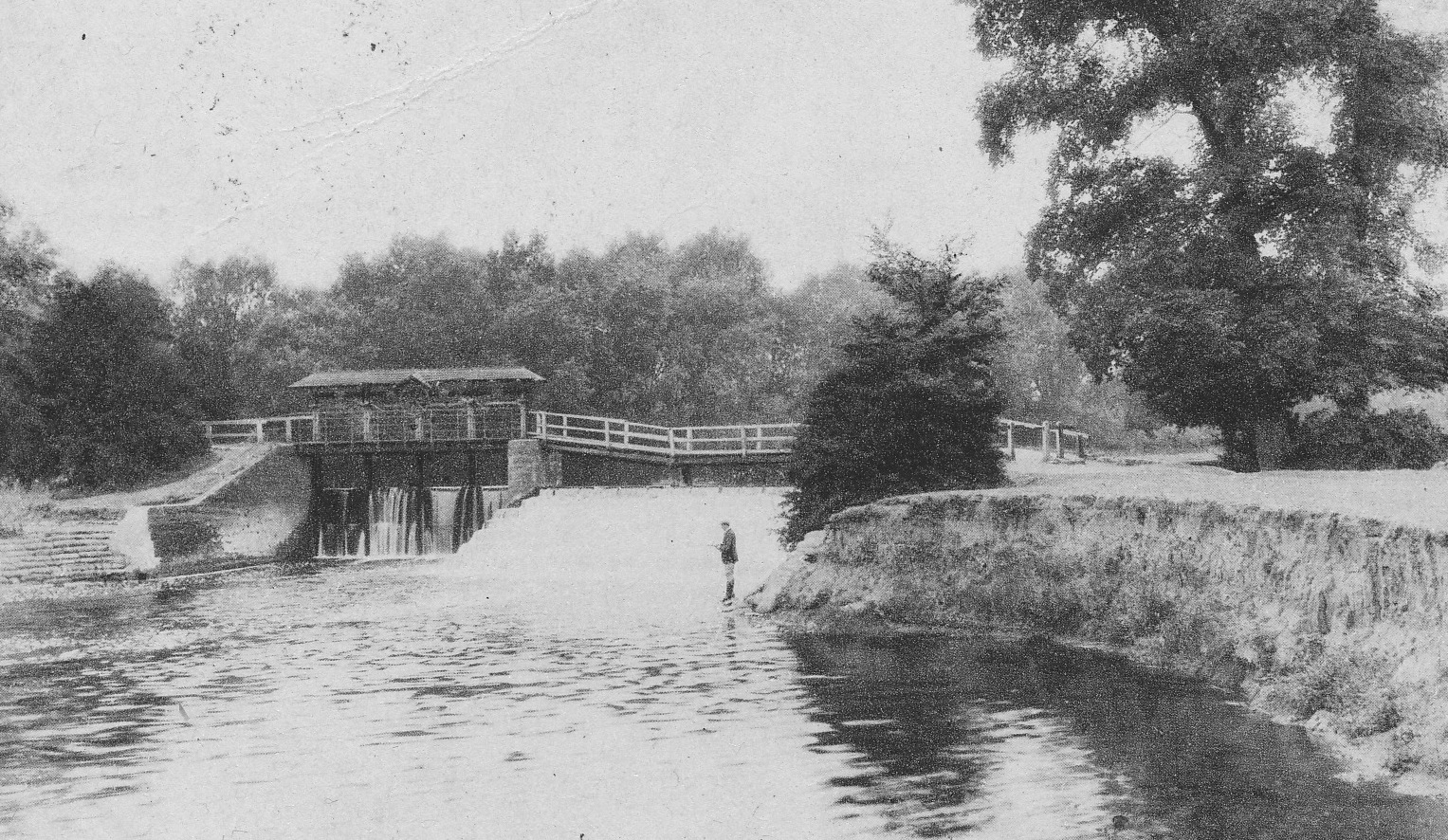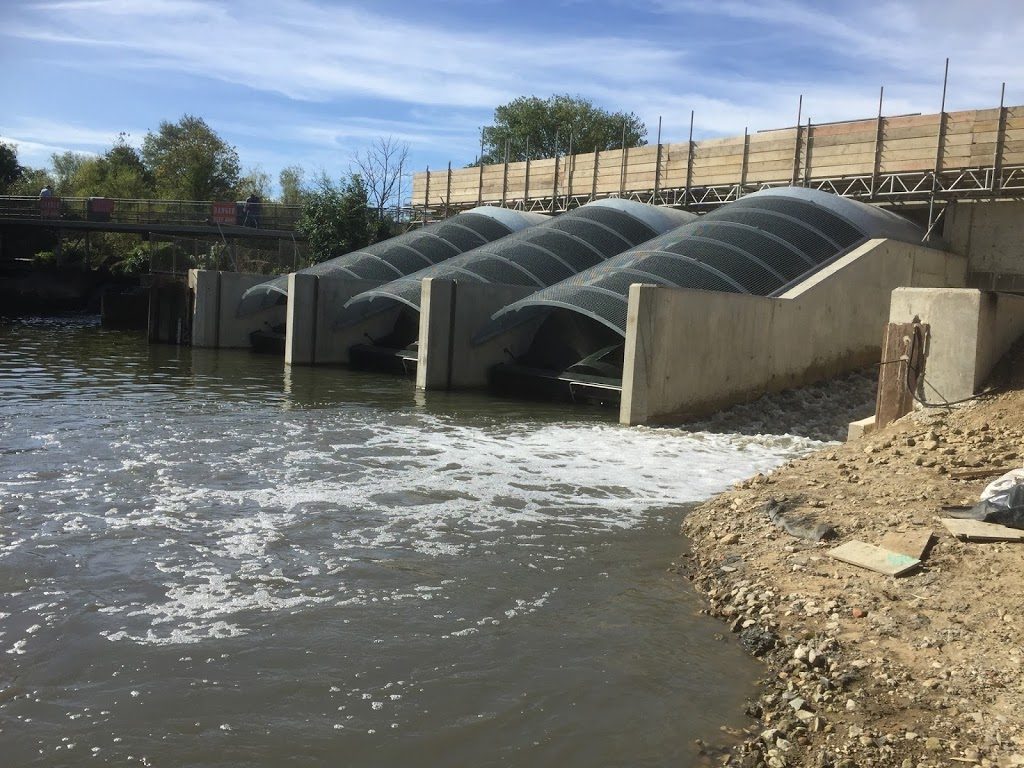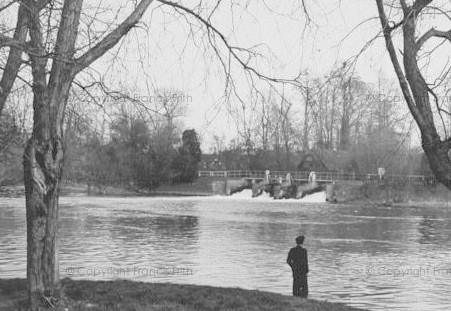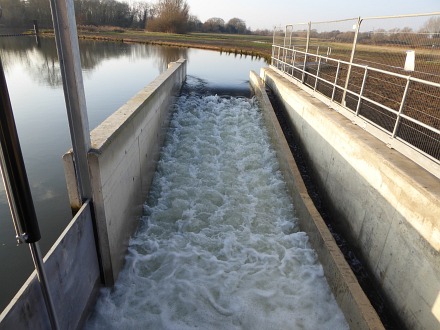 Weir kayaking coaching providers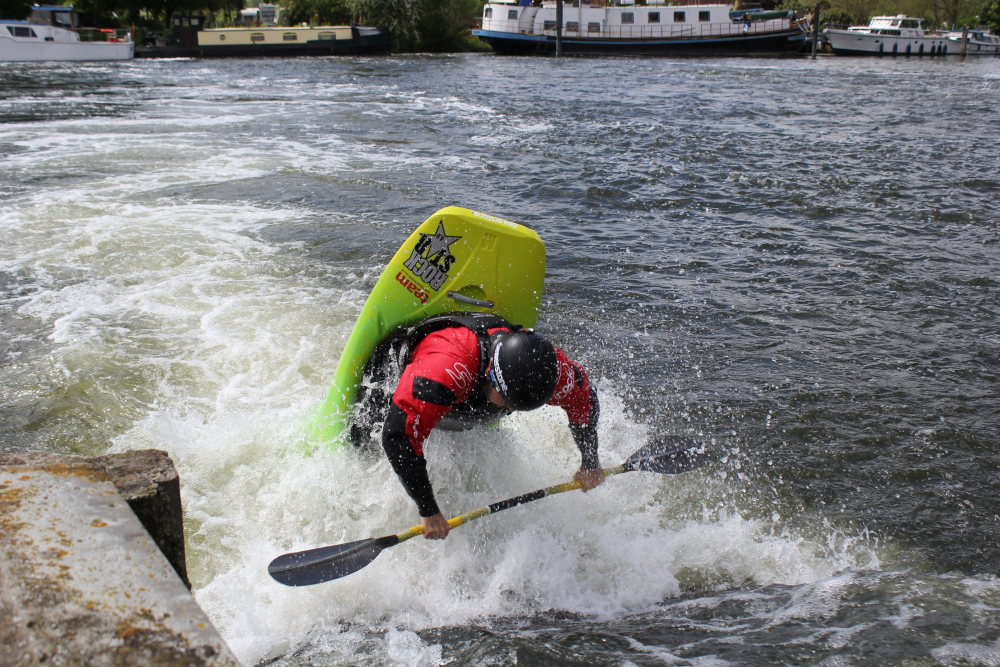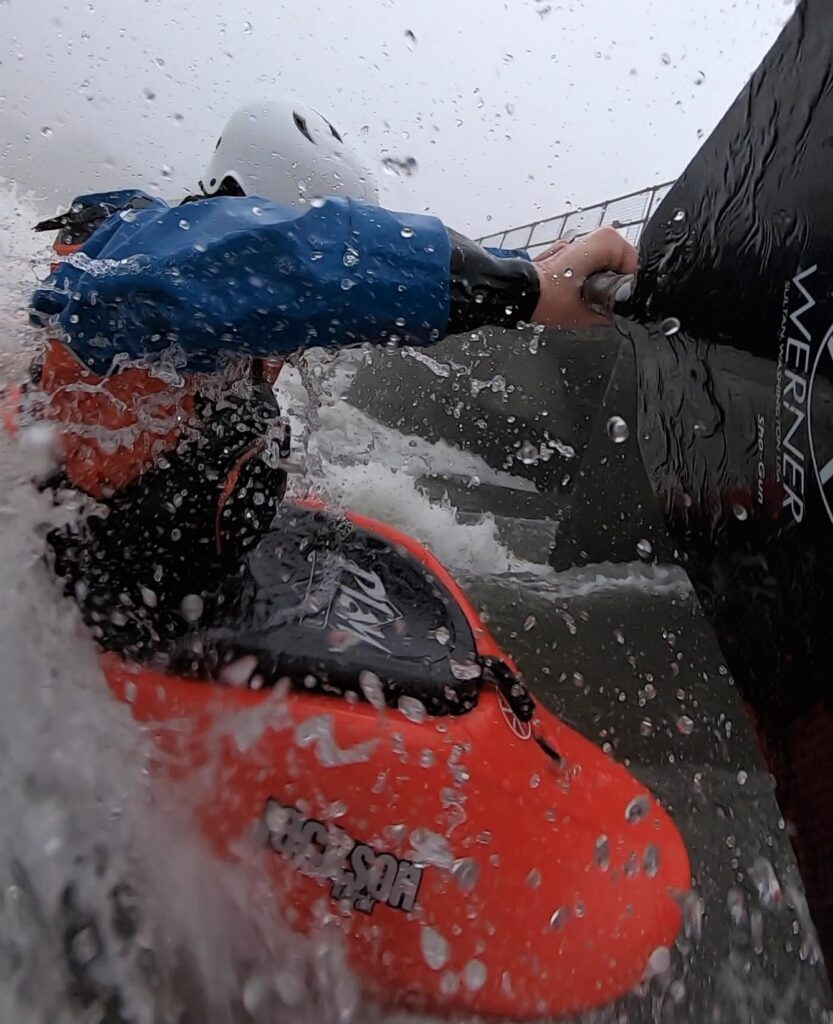 Jacko's Freestyle Coaching